When it comes to hunting, there are a lot of things to keep in mind. From the weapons you choose to crafting the perfect strategy, hunting has a ton of moving parts — and they're all important! Something that's remarkably important to consider is the health of the animals you're hunting. Wildlife is susceptible to disease just like humans are. Chronic Wasting Disease, or CWD, a neurological disease that can affect deer and elk populations heavily. Here's what you need to know about recognizing, preventing, and understanding CWD as a hunter.
What is chronic wasting disease?
Chronic Wasting Disease, also called CWD, is a neurological disease that can be prevalent in deer, elk, moose, and other members of the deer family. Chronic Wasting Disease exists in many states that deer call home. It has been found in: Arkansas, Colorado, Illinois, Iowa, Kansas, Maryland, Michigan, Minnesota, Mississippi, Missouri, Montana, Nebraska, New Mexico, New York, North Dakota, Ohio, Oklahoma, Pennsylvania, South Dakota, Tennessee, Texas, Utah, Virginia, West Virginia, Wisconsin, Wyoming, Alberta, Quebec, Saskatchewan.
CWD is also referred to as "zombie deer disease." It's fatal to the animals that contract it and can cause everything from wasting (drastic weight loss) and drooling to listlessness and lack of coordination in those animals.
According to the CDC, "scientists think CWD spreads between animals through contact with contaminated body fluids and tissue or indirectly through exposure to CWD in the environment, such as in drinking water or food. CWD affects many different species of hoofed animals including North American elk or Wapiti, red deer, mule deer, black-tailed deer, white-tailed deer, Sika deer, reindeer, and moose."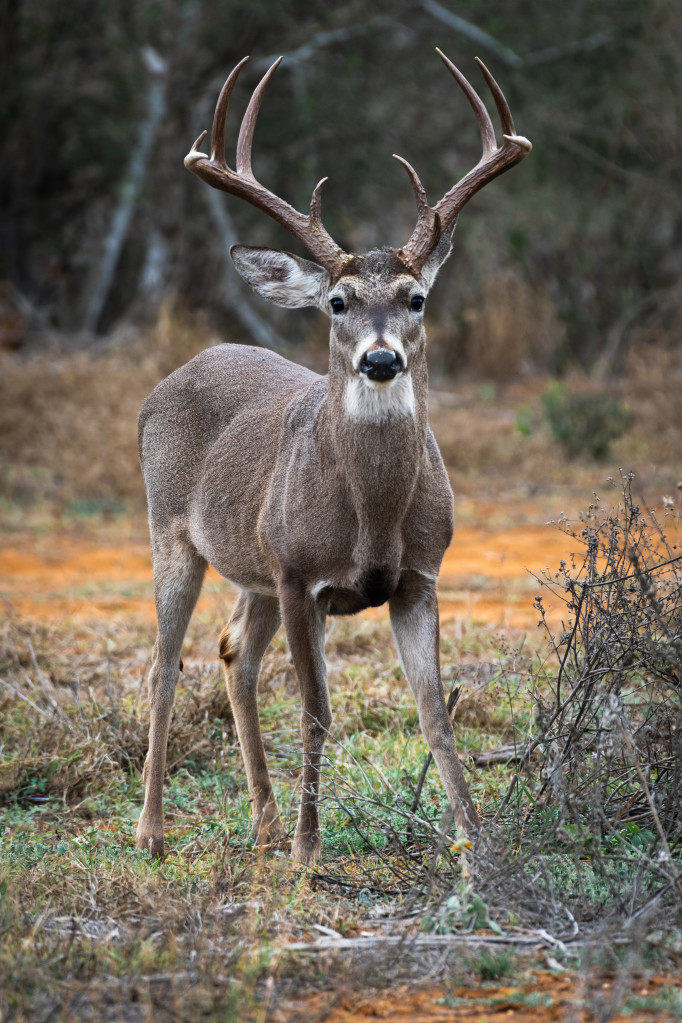 How to identify chronic wasting disease
CWD typically has a longer incubation period, and can be difficult to identify. However, there are several ways that you may be able to identify CWD in deer that have progressed in the disease. Always keep an eye out for things like:
Wasting (drastic weight loss)
A lack of coordination, often presenting as stumbling around
Drooping ears and drooling
A lack of fear of people and hunters
Since Chronic Wasting Disease can spread to other deer and infect free-ranging populations, it can present a big-time problem for hunters. It's why it's so important to keep an eye out for CWD, to follow necessary regulations and rules and to take serious responsibility when hunting. For instance, there are even some states — like Texas — that require mandatory testing for CWD-susceptible species like deer. It's also vital to report any deer that seem to be sick to your local game warden or wildlife department.
What to do if you suspect chronic wasting disease
If you suspect Chronic Wasting Disease in a deer or elk on your hunt, your first responsibility is to contact your local wildlife department. Since CWD can spread via the environment in other deer or elk, it needs to be taken seriously from the beginning. Secondly, you should avoid hunting any sick-looking deer or elk, and you should avoid handing or eating any big game meat from an animal that appeared sick before death.
There are local, state, and provincial requirements in place to help curb the spread of CWD, including mandatory and recommended testing of animals. Make sure you reference any information from your local wildlife agency to minimize your own risk and to curb the spread within your deer community. While CWD hasn't been shown to spread to humans, it's still important to stay as safe as possible. We always recommend having any deer or elk tested before eating any meat, and using safe practices always.
How to stop the spread of Chronic Wasting Disease
The natural movement and migration of animals poses the biggest risk for introducing the disease to non-effected areas. As a hunter in a non-effected area, it is your responsibility to do your part in helping stop the spread. The live importation of deer species has been banned in many of these states. Hunters who decide to go out of state should always have their meat tested, and some states have tight regulations on harvests from states in which CWD has been found. These regulations include only bringing home boned out meat, hides, and finished taxidermy mounts, leaving all other carcass parts behind. Check with your state regulator if you are planning a deer hunting trip out of state.
—
As a large game hunter knowing how to recognize CWD and what to do if you suspect a nearby animal has it is an important part of being a safe and responsible hunter. 
If you're looking to boost your hunting knowledge, come join us in HUNTINGsmart!. Our engaging, narrated and animated courses are perfect for new and experienced hunters alike, and built to help you become the safest, most effective hunter you can be. Find out more here.